10 year old boots
2 pairs of socks
1 pair of stirrup pants
1 pair of blue jeans
1 tank top
1 short sleeve shirt
1 long sleeve shirt
1 hooded sweater
1 pea coat
2 gloves
1 scarf
1 faux fur hat
We'll get back to that.
This week Lauren, Berly, and myself moved into the most perfect house in Atlanta. Beautiful historic streets, skeleton key locks, mail delivery by foot... I cannot think of one single downside.
Lots of people helped us. Lots of strapping young men and women.
Have I ever mentioned how stressful moving is?
We had a house warming/ happy birthday Lauren party last night.
Parties aren't really my thing, but it was quite enjoyable.
Someone went #2 in my toilet and didn't flush. I'm not complaining or anything. Conservation is key.
All of that accumulates to today: the most perfect day of a truly fantastic week. The day that I had set aside for hours and hours of homework.
I arose to a phone call around 11:30 (don't judge... I couldn't sleep last night), inviting me to come sledding in Piedmont Park. "Sledding? In Georgia?" I asked.
I hadn't looked outside yet. Our little city was blanketed in a thin, unfamiliar, and welcomed layer of snow.
If you've been living here for the past 16 years as I have, you know how uncommon this is.
In which case, do you remember the blizzard of '93? Glorious.
I was picked up by my friend Daniel, along with 3 adorable children from Vine City, and driven to the house he and his wife live in. Then we walked roughly a mile (maybe) to the park. We mostly ran in excitement.
Somewhere around 100 people were running up and sliding down this hill in garbage bags, laundry baskets, and cookie sheets.
It didn't even occur to me how ghetto we all are. It was that intoxicating.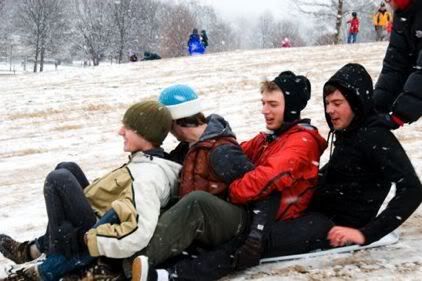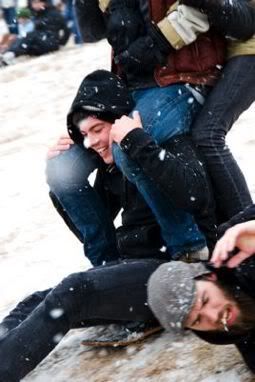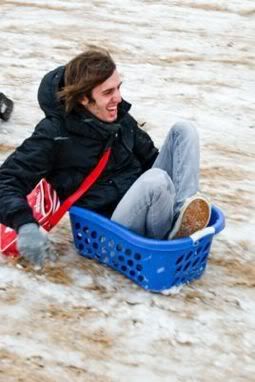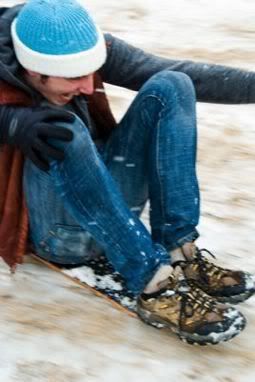 The Trinity congregation was ever present. Big thumbs-up.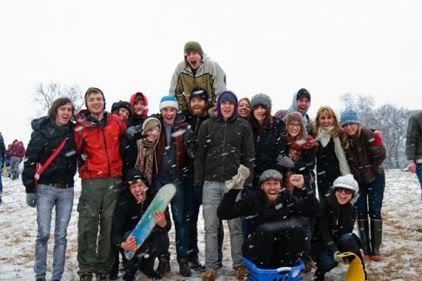 (+ many)
After a few runs down the hill, things progressed to a Trinity-wide snowball fight at the top. After being hit in both eyes (pictured below)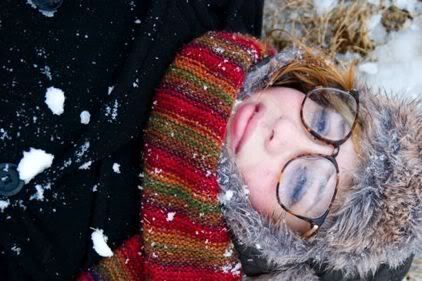 (um... ouch), a large group of adults surrounded us and waged war. For about an hour we plotted, advanced, and retreated. People that we would normally never stop to talk to became our amiable enemies.
A nicely dressed man walking in solitude under an umbrella, talking on his phone, was assaulted by a dozen of us (not me... I'm not cruel). In a split second he had tucked, rolled, and retaliated using his umbrella as a shield. That was the closest I've ever been to a laugh-cry. He was a champ.
A finely primped newscaster gentleman posed with some children on the hill. They shot a few takes of him pushing the kids on their boogy-boards down the makeshift slope. By that, I mean that they sailed for about a solid foot, and then face planted from the friction.
Then he was assaulted with snowballs. By Trinity. Naturally.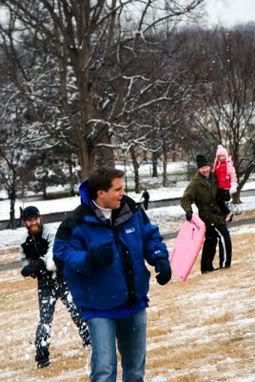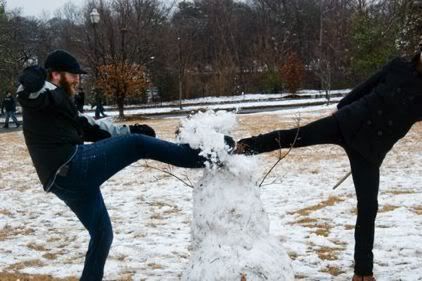 Fast forward to hot chocolate, pajamas, pizza, and nostalgia at Kyle/Blaine/Ian/Casey/Jon's house. Old friends and new neighbors.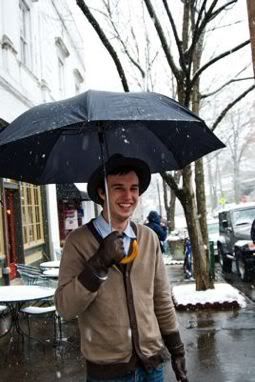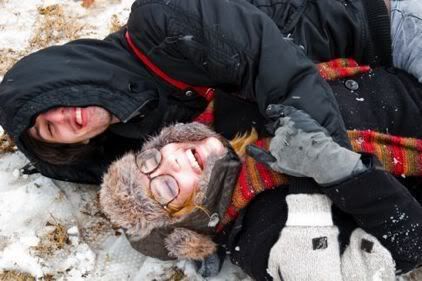 In conclusion, we have God to thank. By sending one single inch of snow, He slowed down a hardened city and brought Atlanta together for a day.
And also, by providing Kyle with talent and a camera, this fine day was able to be documented.